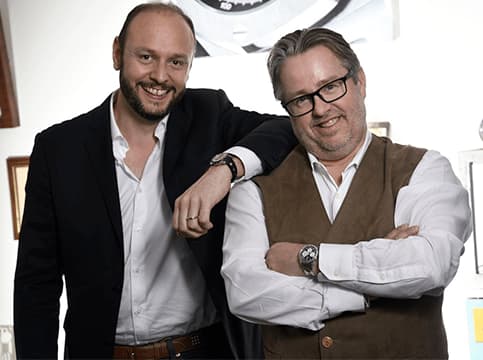 Vintage Watch Story (VWS) is above, for over 10 years, all a story of friendship between two watch lovers.
The meeting between Steven Libermann, informed collector, investor and businessman and Jean-Christophe Guyon, recognized independent expert, seasoned scout, also passionate, gave birth to VWS.
Combining their know-how, they decided to share a unique selection of "watches with a story, each particular, each different": a vanished brand, a unique model, an unusual genesis…; there are no small stories.
At VWS, we rely on a network of watchmakers, auctioneers, collectors and enthusiasts of all kinds around the world.
With us, risk the astonishment and the pleasure of discovery without elitism and snobbery. We work on both small original pieces and the finest complication watches from major brands.
The important thing for us is to accompany you from the small desire to the great madness, to give you complete satisfaction, to realize your dreams and to succeed in surprising you!
Your trust is our greatest success