Do a valuation of my watch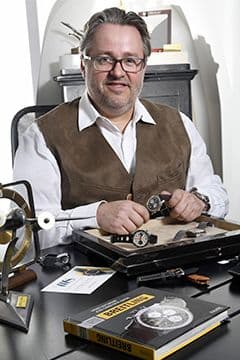 The VWS company works exclusively with Jean-Christophe GUYON - Expert CEA ( Expertise Company in Antiques and art objects ) , one of the few recognized experts in France for his knowledge of vintage watches and collectibles. Jean-Christophe collaborates regularly to the most beautiful auctions at Drouot in Paris . He is also the author of sales themes " Adventure Watches" at Circle Officers in Paris.
He is also the author of the book "Vintage Watch Collection: Breitling" published by Editions Favre (2014), which is a reference book for Breitling vintage enthusiasts.
All watches offered for sale are as follows :
• supplied with their original papers or a Certificate of Expertise,
• and of course revised by our partners watchmakers and 1-year warranty.
VWS offers a consultancy service for your watches allowing you to affirm the authenticity and value of your property. This is particularly useful in the context of a sale of an estate or for insurance purposes.
The certificate of expertise will be issued after a careful study of your watch (a first review by photo is possible but by no means sufficient to issue the certificate).
Its fixed cost is :
• € 100 for a watch with an estimated value of less than € 3,000
• 5 % of the estimated for an estimated value of more than € 3,000
Contact us - we will call you back soon to arrange an appointment.